Jon Tester's come from behind landslide victory in Montana's senate primary is all the more remarkable when you begin looking at the geographical distribution of his victory.

As Democrats pursue a 50 state strategy nationally, it is clear that Tester has a viable 56 county strategy in Montana.

Tester won 48 counties, tied in one, and lost in only seven. Two of the counties he lost (Silver Bow and Deer Lodge) are two of the most reliable general election counties for a Democrat. Tester only lost the other five by a combined total of 505 votes.

Of the 48 counties Tester won, he won by a 3:1 margin over John Morrison in Chouteau, Liberty, Hill, Missoula, and Teton counties. Tester won by a 2:1 margin in Blaine, Cascade, Daniels, Gallatin, Judith Basin, Lewis & Clark, Petroleum, Pondera, Ravalli, Treasure, and Wibaux counties.

The following map shows the counties in which Tester beat Morrison, with red indicating the counties he won 3:1, orange the counties he won 2:1, yellow the counties he won 1.5:1 and green showing the additional counties he won.




Jon Tester 2006 and Max Baucus 2002

In the last midterm primary election, Democrat Max Baucus was at the top of the ticket running unopposed. While Tester was being outspent 2:1 as the underdog in this year's primary, comparing Tester's results to those of the unopposed Baucus show the remarkable degree of energy in the Montana Democratic Party since the 2004 "Montana Miracle" when Democrats took back state government.

Tester's work to fire up the youth vote pulled 7,000 more votes out of the two university counties (University of Montana in Missoula and Montana State University in Bozeman's Gallatin County). Additionally, despite a primary, Tester out-performed Baucus in the following counties: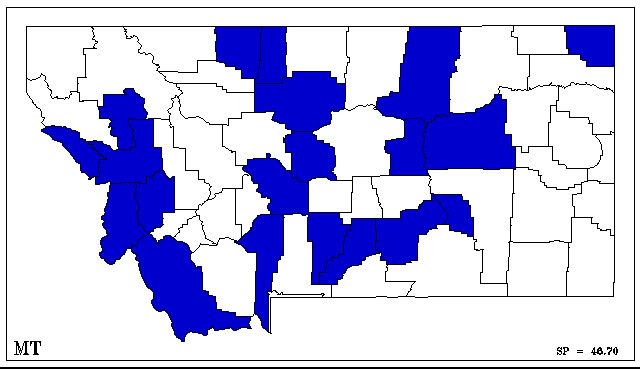 Jon Tester and Conrad Burns

Tester is also looking great when it comes to the general election. While Burns received 4,552 more votes in his primary, Tester received more votes than Burns in 14 counties: Big Horn, Blaine, Carbon, Cascade, Deer Lodge, Glacier, Hill, Lewis & Clark, Mineral, Missoula, Roosevelt, Rosebud, Silver Bow, and Valley.

In 2000, now Governor Brian Schweitzer challenged Burns and came close to upsetting the senator. The following map shows where Burns received his support in 2000: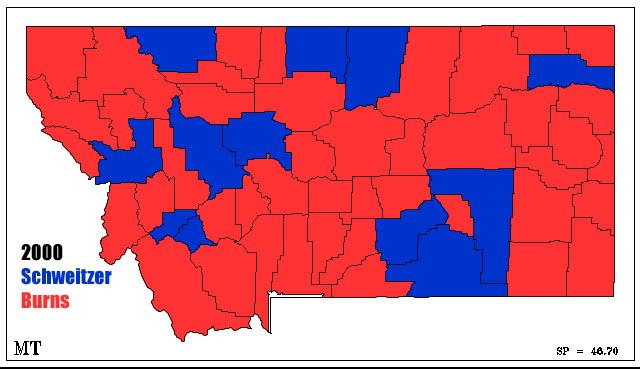 Since then, Democrats' work everywhere has allowed a statewide nominee like Jon Tester to be competitive across a wider geographical area. Governor Schweitzer won in 2004 with significant support across the state and currently enjoys a 68% approval rating.

Tester's strong base along the Hi Line, his amazing support from Montana's youth, and the backing of an overwhelming popular governor provide Tester's campaign three critical advantages that Schweitzer didn't have during Burns' last re-election.

If Tester has the resources to finish branding himself before the NRSC onslaught, then it is quite reasonable to conclude he is the favorite in this race. You can help make this so by contributing here.