There has been a lot of discussion this week of the netroots rejecting DLC candidates (see Mark Warner). A new report shows that the DLC's war on young people is the exact opposite strategy Democrats need. And most importantly, in Tuesday's elections, the DLC candidates were rejected by the voters in both red and blue states with Ned Lamont poised to oust DLC founder Joe Lieberman in less than two months.

Now, even worse for Al From, Marshall Wittman, and Ed Kilgore, the Des Moines Register has the first major poll of the 2008 Iowa Caucuses. The DLC candidates (Hillary Clinton, Tom Vilsack, Mark Warner, and Evan Bayh) combine to to hit a DLC ceiling of 41%.

One way to view presidential politics is as a reaction to the problems that we are facing. That is why the Democratic Leadership Council was once successful, because they were a reaction to what were then the problems in the Democratic Party.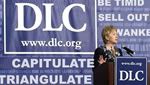 But the current problem with the Democratic Party is the DLC and the backlash against the DLC is framing the 2008 race. This is bad news for Senator Clinton, who is defined strongly as a DLC problem child. But it is even worse news for the Tier II DLC candidates like Bayh, Warner, and Vilsack who confront the liability of DLC baggage while not being able to count on the DLC support that has inevitably been flowing to Clinton. Combined, the Tier II DLC'er are only polling at 15% in Iowa, yet will face the wrath of the new progressive movement for the DLC support for Iraq, the bankruptcy bill, CAFTA, and the destruction of the Democratic brand via triangulation.

It is so bad that DLC head Tom Vilsack only pulls 10% in his home state.

Vilsack, despite getting good marks in previous polls for the job he's done in two terms as governor, receives relatively tepid support from his home state in the Register's new presidential poll, taken May 29 to June 1. [...]

University of North Carolina political science professor James Stimson said the poll results likely would cause short-term problems for Vilsack, especially in raising money. News that Vilsack is not the favorite in his own state will make potential donors think twice, Stimson said.

Vilsack, one of several people whom Kerry considered as his 2004 running mate before deciding to put Edwards on the ticket, has taken several steps toward a possible run for the White House. In 2005, Vilsack started a fundraising organization aimed at allowing him to help Democrats around the country this year and sow goodwill with influential party activists in key states. In its first year, the organization raised $2 million.

Stimson said the results suggest Iowa Democrats are more comfortable with Vilsack as governor than as president.
Ouch, those who know him best don't think he is leadership material with only 26% giving him a favorable rating as a potential presidential candidate. The curse of the DLC: when candidates run trying not of offend anyone they end up inspiring few.
[Georgetown University professor Stephen] Wayne said that the poll reflects name recognition of people seen as presidential caliber, more than popularity, and that the results show Iowans largely do not see Vilsack in that class.

"If here is a person that makes no secret of the fact that he is thinking about this, and only gets 10 percent, that is not very good," said Wayne, a leading scholar on presidential campaigns and the presidency.

A previous Iowa Poll, taken in January 2005, found that just 29 percent of Iowa adults thought it was a good idea for Vilsack to seek his party's nomination.
Iowa will be a battle, the
Hotline points out
:
BTW, doesn't this make it harder for Clinton to even ponder skipping the caucuses since it would look like she was ducking a fight?
Yeah, but Clinton ducked the Yearly Kos Convention as part of her staff's mission to keep her surrounded by only those who support her.
That is the problem with being a member of the DLC now days, it indicates a cowardice and lack of leadership. How can we follow candidates who aren't leading?